---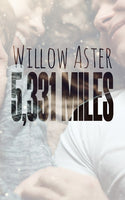 We spent a lifetime chasing firefly dreams 

Jaxson and I devised a life list when we were kids in Holmes Chapel. Just a few things on that list:

*Climb the Eiffel Tower.
*Visit every zoo in the world.
*Eat peanut butter every day.

But all the promises he made dissolved into dust, so when he comes around years later wanting to go live out our list, I want no part of it...or him. The universe seems to agree with me because everything we try is a disaster.

The heart though—it's a tricky beast; I'm just not sure mine is strong enough to survive Jaxson one more time.
Paperback book by Minnesota-based author Willow Aster.