---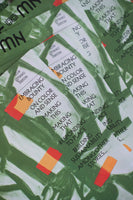 A collection of nature-centric stories featuring sustainable growers, businesses that prioritize the land and the people, placemaking through eco-friendly thinking, and finding community through curiosity and exploration of our natural landscapes.
A note from the editor: "The voices in this issue embody the many shades of what green can be. Growing, making, listening, painting, dyeing, teaching, and being—as a color, an idea, a way of living—its inherent subjectivity leans toward ambiguity, and yet, there's a certainty in its presence. But there is an impermanence to green, isn't there? A transformation has taken place, will take place. To bask in green feels indulgent, yet light; curious, yet peaceful; pensive, yet imaginative. Green is alive."
Filled with foragers, makers, artists, and creatives, order yours to support independent publishing!