---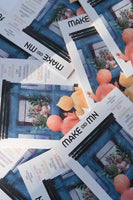 A collection of conversations, essays, guides, and recipes exploring how perspective informs creativity. Read about artists, ceramicists, herbalists, natural dyers, and foragers and the connection to craft and community in their creative endeavors. It's an honor to gather and publish these voices alongside a brilliant team of contributors - and it feels so good to get these stories out in the world! 
A note from the editor: "We have conversations on identity and art, community guides and recipes, and stories on local craftspeople, all written and photographed and illustrated by an amazing group of contributors. A small, hard-working community of our own. I'd like to give special thanks to our Art Director Sara Fowler, and the cover illustrator, Magdalena Mora, for sharing their creativity and imaginative art in this collection. "
Filled with artists, writers, foragers, natural dyers, herbalists, and creatives, order yours to support independent publishing!